Here are our geldings you'll find lounging and roaming around our place.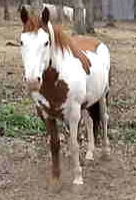 Mr Dizzy Breeze
Sorrel Overo
APHA Reg.#: 00184136
DOB: 5-17-90
Sire: Skipabreeze
Dam: Ms Dizzy
"Moon" has been with us since '99. He's been to a couple of shows and parades, and is enrolled in the APHA Ride America Program. So we'll be logging hours for that amongst doing other things. He has also sired four horses:
Rockabye Breeze- Out of: Rockabye Moon
Bold Wild Cherry- Out of Late And Bold
Rocky Breeze- Out of Rockabye Moon
DHRS Foxy Breeze- Out of: Foxy Bright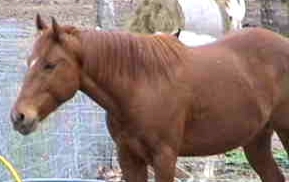 Ace
YOB: '96/'97
Sorrel Quarter Horse
Ace has been with us since '01. He's been in a couple of parades and went to a show. He's mostly been used for leisurely riding, but he'd be good at barrels & team penning. His last owners said the only reason they were getting rid of him is because they owned a dairy farm, and he kept rounding the cows up and herding them into his stall. We haven't tried him on a cow yet, but we should...I'd like to see his reaction. He just may get to do these two things sometime in the near future.