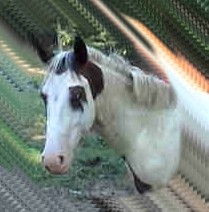 JBARL ETERNAL CLASS
Bay Tovero
APHA#: 660,205
DOB: 5-9-01
Sire:
JBARL Eternal Deck
Dam:
JBARL Classy McCue
"Winky" is registered APHA, and has been with us since he was 7 months old. We first intended to use him as our stud, but now that Bill has come along, we're still deciding. In the end, they may both stay as they are (and reside with us). Winky has been started under saddle, and has had a young child set on his back. He has shown no problem with this so far, and is easy to get along with. At two years old, he still shows no sign of interest in mares. This is quite alright with us, as he'll come into his own by himself. We intend on showing him more in the future, as we've had a bit of a set back this 2003 season. Look for more information on him later on! We may start considering offers.
Easy N Flight
43,880
Willie Be Good
102,510
Sire: Wills Pinata
JBARL Eternal Deck (QH)1,651,913
237,922
Top Billing
36,810
JBARL Eternal Zero
141,759
Susan Zero
(QH)1,474,401
RR Silver Soul
96,586
BHR Unique McCue
162,920
Misty Moonlight
Dam: 89,532
JBARL Classy McCue
352,544 Olden Time
57,320
Winning Time
85,101
Tonto's Jo
(QH)841,934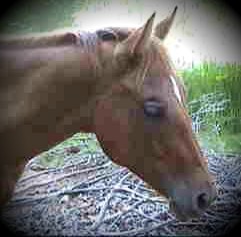 EASY STORMIN BILL
Sorrel Tobiano
DOB: May 22, 2002
APHA#: 700,799
Sire: Stormin Gay
Dam: Cutter Bills Lady
"Bill" or "Turtle" has been with us now for about 2-3 months. So far, he seems very laid-back (sometimes he's hard too budge), and easy to get along with. He has both halter & performance in his background, so we'll be showing him sometime in the future to see how he does. He has a small head with big soft eyes, and he's going to be a big boy. At 14 months, he stands about 14.2-14.3 hands. We're still working on filling him out, so he probably won't be shown until the 2004 season (he should be ready by then). Look for more pictures & info later on!
Stormin Dorman
109,517
Stormin Jack Flash
Sire: 149,926 Irish Ease
Stormin Gay 78,980
245,654
Jetaleos Forecast
109,745
Forecasters Love
151,913 Rachelles Love
(QH)1,862,019
Bill The Cutter
(QH)1,129,067
Cutter Bill Blair
(QH)1,204,910
Doug Blair
Dam: (QH)233,729
Cutter Bills Lady
(QH)2,275,008 Rugged Dell
(QH)685,816
Penneys Red Lady
(QH)1,204,910
Dime Belle
(QH)144,327
JBARL ETERNAL CLASS & EASY STORMIN BILL

Registered APHA Bay Tovero & Sorrel Tobiano

Stud Fee: Not standing to public

Foals will be available to the public in the future.